This was the first full year of me doing BJJ. A lot has changed in the past 12 months. I started the year as a one-stripe white belt. I had not competed in any tournaments. Also, I weighed about 200 pounds.  Now that we're in December, I've got 3 stripes on my belt, I competed in four tournaments, and I'm down to a shade under 185 pounds.  My tangible progress looks like this: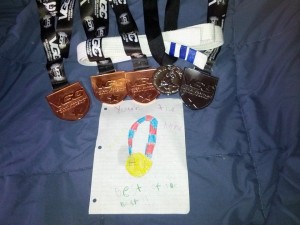 The paper medal at the bottom was from my first tournament. We drove out to Bettendorf, IA. My wife and kids came along and sat through 4 boring matches where I lost rather decidedly.  As I walked back over to where they were, and slouched down to catch my breath and drink some water, my kids handed me that piece of paper, it says "You're the best of the best." It just about made me cry.  Other than that, I got 3 bronze at my next tournament, and a silver at each of my next two.
As I wrote after my first tournament, I'm not a BJJ prodigy. If I'm going to be any good at this, I'm going to have to work at it — hard. And that's exactly what I did this year.  I've logged 354 hours this year (and I'll probably hit 358 by new years day.) That comes out to almost 1 hour a day every day of the year. Below is the chart of my activities (courtesy of the app I wrote, Mat Time).  I spent 150.5 hours in technique class and another 101.5 hours sparring, that was the majority of my time, both of those are in gi by the way. The 3rd highest activity is conditioning at 39 hours. Each conditioning class is 30 minutes, so that means 80 days this year I got up and made it to the gym by 6am for a workout.  All of this is surprising to me. I don't mind getting up early, and I don't mind working hard (some might say I'm addicted to working.)  But what is surprising is that this is 350 hours of me working on a physical activity. I wouldn't bat an eye if I put in 350 hours on a side project, or on over time at work.  But to spend 350 hours exercising and getting better in BJJ is something I never really thought I'd do.
So now that I can look back and reflect on where I was last year at this time, I have some goals for 2014. To be honest, I wasn't focused on a particular goal for 2013, I just wanted to get better. For 2014, I think my goals will be:
Win a gold medal
Compete at IBJJF Chicago
Get my blue belt
Get to 170 pounds.
Number 2, I suppose is the easiest of those 4, it involves me signing up, paying and traveling. But it's also intimidating. I've only done local tournaments, and IBJJF tournaments, in my mind, are bigger deals.  But I want to continue to test myself, and I think that's the way to do it.
It's been a great year. I've enjoyed BJJ immensely. Despite bruises on just about every part of my body, sore muscles, a broken toe, numerous sore elbows and calves from armbars and ankle locks, I look forward to getting back in the gym. On days where I don't go to class, I enjoy the time to let my body rest and at the same time, I can't wait to get back in there.
I look forward to the new white belts that will be walking through Mid-America's doors in the coming months. Not so that I can smash them or beat them, but so that I can train along side them and (hopefully) help them learn to love the pain of BJJ as much as I do.